This recipe was one I improvised one night when I had to help my friend use up some chicken breast. We wanted something with minimal marinating and were keen on avoiding the oven, as it was getting late. We were also craving Korean flavors. So, after I mixed up a glazey gochujang sauce, we tested searing the chicken breast as one piece versus cutting it into smaller chunks. Searing led to a pretty, caramelized exterior, but required monitoring the doneness and letting the meat rest before cutting, and we were missing seasoning on the cut sides. Stir-frying/sautéing strips lead to a saucy glaze and more tender, evenly-cooked chicken, which is now my preferred method. Nowadays, whenever I'm in a pinch, this is a recipe I know I can fall back on; the sauce proportions is mostly eyeballed and easily scaled up or down, and the cook time is quick and fool-proof from burning and dryness.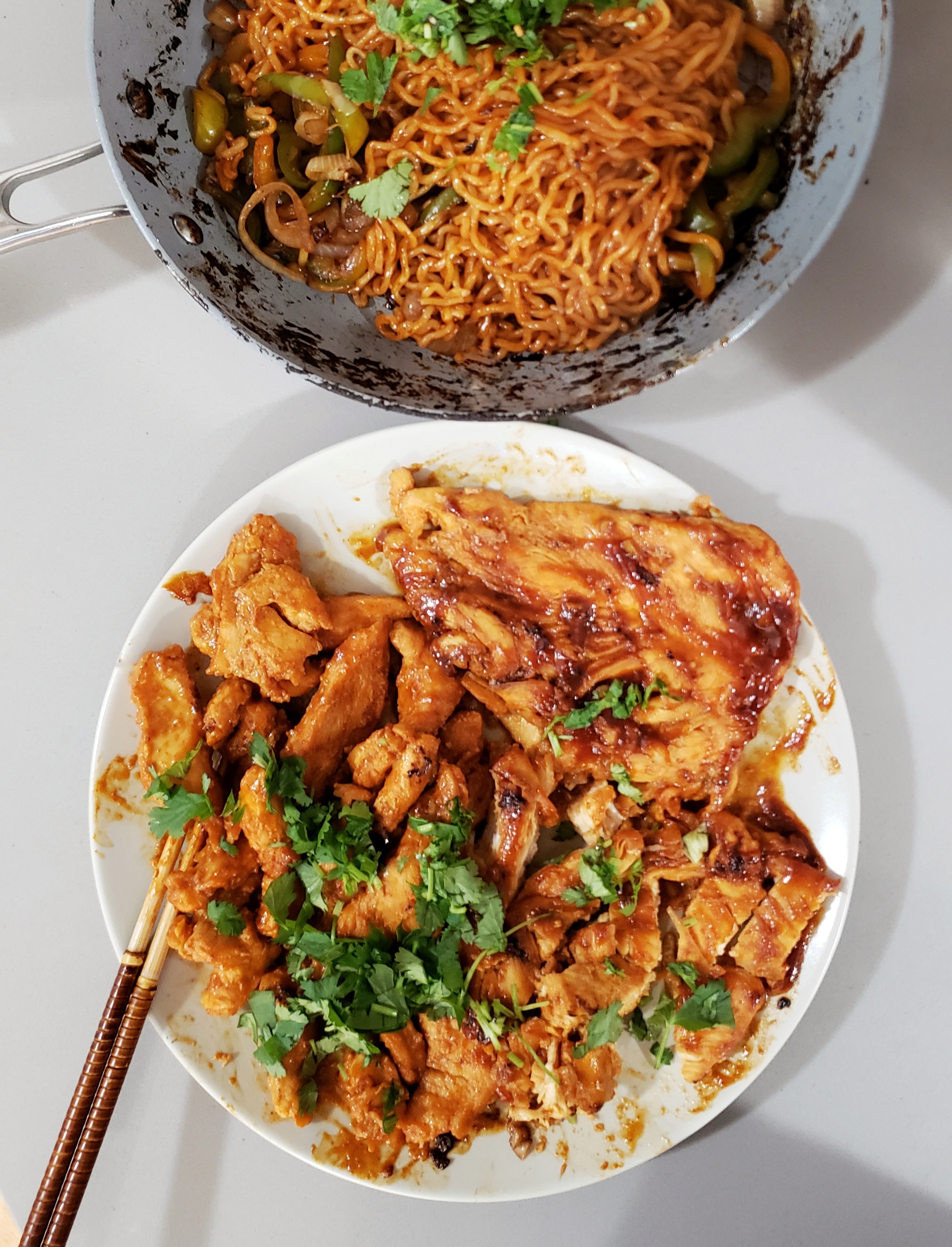 SERVINGS: about 4 | PREP TIME: under 10 minutes | COOK TIME: 15 minutes
INGREDIENTS
2 lbs (about 3 large) boneless skinless chicken breast
4 tbsp gochujang
3 tbsp oyster sauce
2-3 tbsp honey
1 tbsp soy sauce
Splash of sesame oil (optional)
1 tbsp oil of choice (I use olive or avocado)
1 large scallion, chopped
Cilantro, chopped (garnish)
DIRECTIONS
Butterfly the chicken breast so that the breast opens to a heart shape. Continue cutting through the center to result in two mirrored pieces. Then, cut against the grain, widthwise, to result in short (not long) strips. Longer strips can be cut in half to make the sizes more uniform. Set aside in a bowl.
Make the sauce/marinade by combining the gochujang, oyster sauce, honey, soy sauce, and optional sesame oil. The measurements are rather approximate; start with the listed proportion and adjust according to taste. Mix well until uniform and glossy.
Spoon about 2/3s of the sauce into the bowl of cut chicken and massage it in to ensure even coating. Set aside for about 10 minutes (but the time it takes to slowly heat up the pan should be enough for the chicken to marinate a bit).
Add the oil to a nonstick pan and let it warm up to medium high heat. Add a handful of the scallions and fry them until slightly browned.
Pour in the chicken and the marinating sauce and spread out to ensure each piece has contact with the pan. Let sear until browned, then give all pieces a rough toss. Repeat so that most sides are browned.
Lower heat to medium/medium-low to reduce the sauce and make sure the interiors are fully cooked. Continue cooking, stirring occasionally, until sauce reaches desired viscosity. You may mix in your reserved sauce with the cooked chicken now to coat and boost the flavor if you feel it's necessary.
Plate the chicken and garnish with cilantro and remaining scallions.
Enjoy!